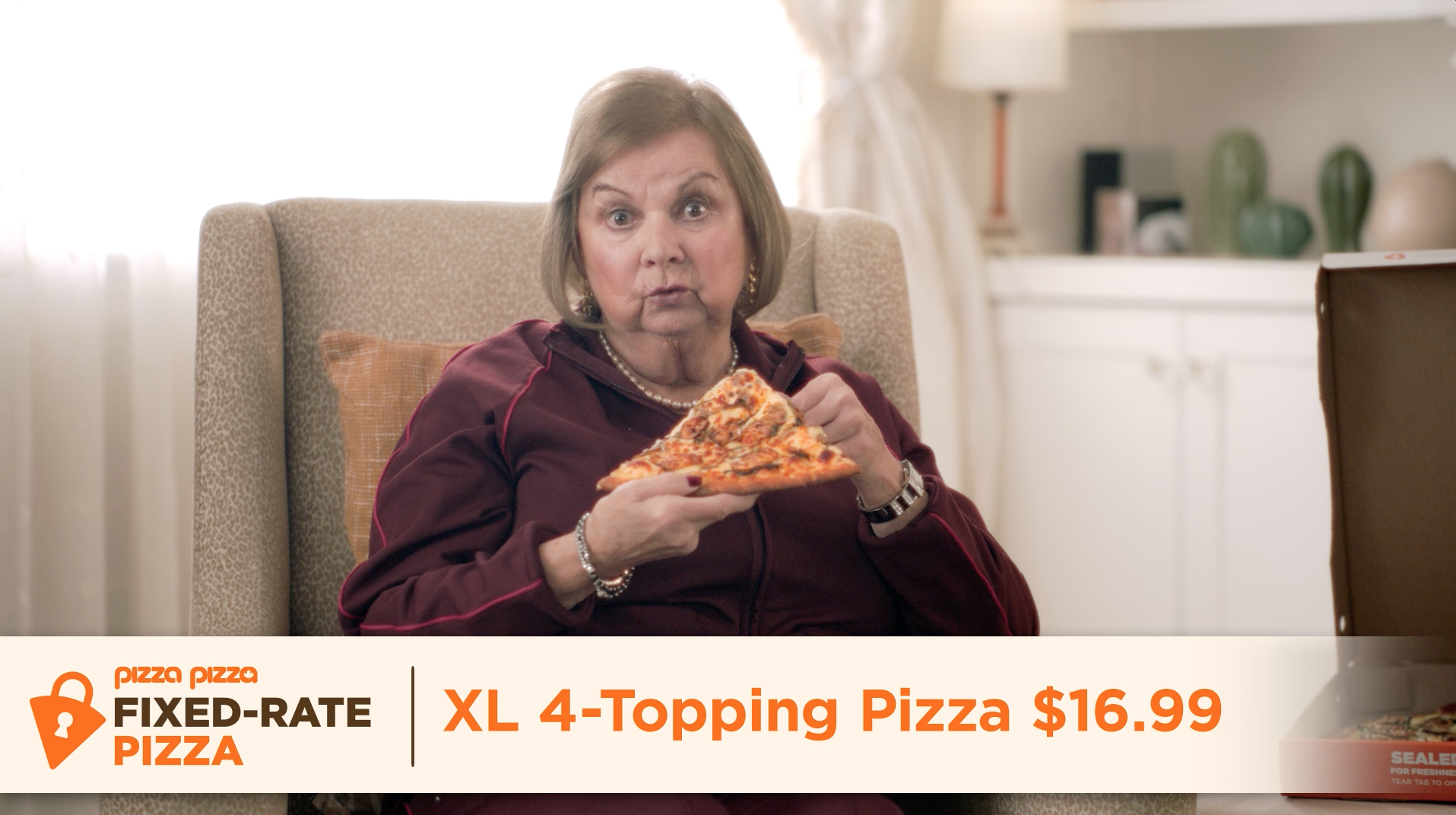 Last summer, three days after Canada's biggest interest rate hike in 40 years, Pizza Pizza launched its Fixed-Rate Pizza offer, which allowed Canadians to "lock in" on a $16.99 XL 4-topping pizza, guaranteeing its price would not rise for at least a year. With over half a million Fixed-Rate Pizzas sold to date, Pizza Pizza is now extending its price guarantee until the end of 2023 – and promoting the extension with a new campaign from agency partner Zulu Alpha Kilo.
The "Fixed-Rate" name itself borrows language from the mortgage industry, so the new campaign – which includes TV, OLV and social – is doubling down on common banking and insurance infomercial tropes. Scenarios include an elderly couple who didn't need a medical exam to get approved, a young couple enjoying their new dream pizza in their new dream home, and another character who explains how the website walked him through every step – there were no steps!
The campaign extension was sparked by the continued success of the Fixed-Rate Pizza offer, which has remained in the chain's most popular offers for over six months. "We knew we were on to something special when the Wall Street Journal reached out asking to cover the campaign," said Adrian Fuoco, Vice President Marketing. "Sales have surpassed our expectations, and with inflation still a challenge for Canadians, extending our commitment to not raise the price of our offer through the end of 2023 felt like the right thing to do."
"Consumers are seeking real solutions to help with inflation – and some much-needed levity," said Brian Murray, Executive Creative Director at Zulu Alpha Kilo.
Canadians can continue to "lock in their rate" online and on mobile through December 31st, 2023. Paid media is planned by Media Experts and Abacus leveraging programmatic video, social ads and display, along with a television buy that aligns with Pizza Pizza's sport partnerships activity.