Circumventing traditional ad platforms, the digitally-native brand will launch Beyond Repair exclusively on Facebook & Instagram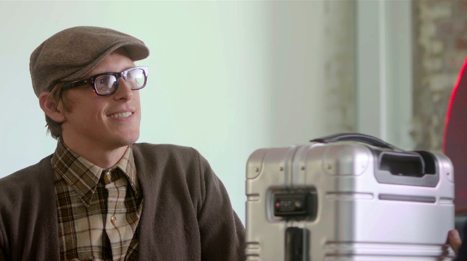 The Traveling Picture Show Company.
"Beyond Repair"
90 second: https://vimeo.com/231209090/b2f5c9185e
60 second: https://vimeo.com/231209405/dde231ec8f
Created in collaboration with the creative team at Arlo Skye, Riccio's tongue-in-cheek, dialogue-driven spot playfully satirizes our love affairs with our favorite pieces of luggage, while suggesting a stellar alternative when a beloved old standby is finally put out to pasture. Beyond Repair celebrates the relationship we develop with our possessions over time, and serves as a clever ode to the ways in which we understand ourselves through our belongings, new and old.
"It's a great script, playing off a classic movie with some good laughs. We're having fun with the subject of travel—which is so often bland—while adhering to a real story and a strong concept," shares director Paul Riccio.
Just under a year old, Arlo Skye is no stranger to using film in its digital advertising initiatives to drive brand awareness, which ultimately translates to online sales. In less than 10 months, Arlo Skye's first ad, titled Sit, speak but don't stay, has over 250K views on Facebook, with 500 organic shares, a Facebook relevance score of 9/10, and an ad-spend ROI with a 7 day conversion window of 4-6X.
"It takes more than just a great product to build a great brand," says Mayur Bhatnagar, co-founder and CEO of Arlo Skye. "The best brands question culture to ultimately create community. We question culture through design, art and film."
Founded by Louis Vuitton and Tumi alums, the brand released an award-winning carry-on in November 2016, and a larger size in September 2017. By circumventing the traditional wholesale channels and selling direct-to-consumer, Arlo Skye provides a superior product to many of the world's best-known brands at an accessible price. The Carry-On retails for $550 and The Check-In retails for $395 on https://arloskye.com.
Beyond creating luxury travel pieces that appeal to discerning and design-obsessed consumers, Arlo Skye has boldly innovated beyond traditional marketing and advertising models. Today, the digitally-native brand almost exclusively leverages advertising on Facebook and Instagram to drive awareness and sales. Specifically, Arlo Skye arbitrages the algorithm prioritization that Facebook gives to film with high relevancy scores for its top of funnel marketing initiatives.
"Brands today must think like media companies–constantly create compelling content to compete for attention on Facebook and Instagram," says Mayur Bhatnagar, Co-Founder and CEO of Arlo Skye. "Storytelling will never die, but the mediums through which we consume content—and the algorithms powering those mediums—will continue to change."