10 April, Amsterdam: KLM is offering you a chance to go where few people have gone before: space. RAPP together with DDB & Tribal Amsterdam launch KLM SPACE, a campaign that offers people the chance to win a real spaceflight aboard the SXC Lynx.
On April 22nd a high altitude balloon will be launched from the Nevada Desert, USA. It will contain cameras and a GPS-tracker that stream data to klm.com/space where the balloon's progress can be followed live. As the balloon approaches the outer atmosphere it expands and eventually pops. On the website people can predict where the balloon will pop by claiming their place in space before the balloon takes off. The best prediction wins the ticket to space.
KLM.com/space: The site kicks off with an interactive movie that explains the challenge and lets visitors experience the balloon's incredible journey in advance. Between April 10th and dawn on April 22nd aspiring astronauts can predict where the balloon will pop by claiming their place in space. Afterwards, participants can increase their chances by asking friends to endorse them, resulting in a bigger place. In return, friends can join the challenge with a bigger place for themselves. During the balloon's live journey, the site even provides real time information on the balloon's exact location.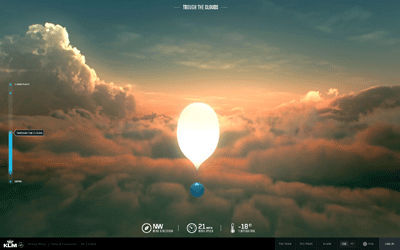 RAPP/DDB & Tribal Amsterdam not only created a site for desktop computers, but also designed totally separate versions for tablets and other mobile devices to make the online experience accessible for everybody, anywhere at any time. Digital production is by MediaMonks.
KLM Royal Dutch Airlines has always been a pioneer in air travel. Space Expedition Corporation (SXC) is a revolutionary space project that aims to launch the first commercial space trip from the Caribbean island of Curacao. KLM supports SXC in finding a way to make space accessible in a responsible, sustainable manner. This underlines KLM's pioneering spirit and highlights the entrepreneurial characteristics of KLM.